FTP Protocol Connection and CCTV Security Camera FTP Server Storage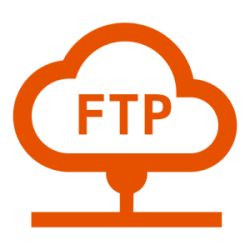 FTP Host:

Port: 21
ftp.filelu.com

Or for secure connection require implicit FTP over TLS port: 990
FTP Login:
your account username
FTP Password:
your account password

Now you can upload, download, synchronize, create folders, rename, and delete files or folders via FTP protocol, also you can connect your security camera CCTV to your FileLu account. Premium users can access to CCTV Loop recording/uploading feature.
What is CCTV Loop uploading or storage? Loop recording/uploading is a process of recording video or uploading continuously to your FileLu account by replacing previously uploaded files with a new file if the CCTV folder /directory is out of space or full.(Overwrite when the CCTV storage is full)
What is a camera FTP server?
An FTP server for IP cameras is an online security camera storage option, which allows you to upload and save CCTV images and videos to a network platform.
By uploading security camera footage to FTP servers, even instructor took the camera away you still have footage saved in the FTP server.
Are you having a login problem with the FTP connection?

Make sure your FileLu username and password are correct.
Contact us with a screenshot of your FTP configuration.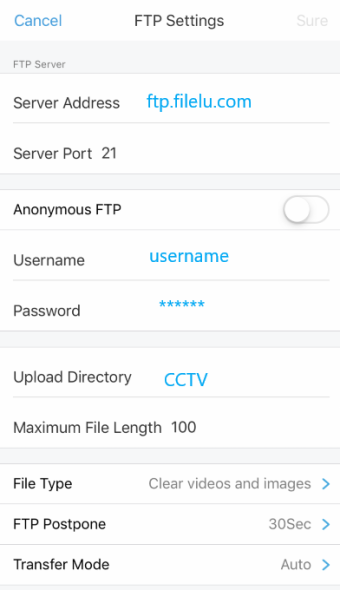 Instructions
Windows
In Windows, use the following instructions to add your Storage Box as a network address via FTP:
Open Windows Explorer.


Click on Computer or This PC then Add a Network Location. Now in the new dialog click two times on Next.
Now enter: ftp://ftp.filelu.com in the text field and click on Next.
Unclick Log in anonymously then click two times on Next and then on Finish.
Enter your username and password.
After clicking on Log on, you will be able to access to your FileLu account via FTP under This PC.
Software
This article only addresses a limited selection of software that you can use for this protocol.
Windows
Windows Explorer
FileZilla
WinSCP
Linux
Android
AndFTP
TotalCommander (FTP Plugin)
Iphone iOS
---